The Buddy Program is an opportunity to promote cultural exchange and international understanding. The idea is to match international with local students at the beginning of the semester, and encourage them to meet, laugh, talk, listen, and participate in whatever activities they wish. By doing this, an important information resource is created for both parties.
Zapojením do Buddy Programu máš příležitost získat přátele z celého světa a konverzovat v cizích jazycích. Co je tvou povinností? Buddy by měl být v kontaktu se svým zahraničním studentem už před jeho příjezdem, aby mu případně zodpověděl jeho otázky. Nejdůležitější je pak vyzvednutí zahraničního studenta na nádraží či letišti. Mnoho z nich tuto pomoc opravdu ocení, jednou z největších obav totiž bývá doprava z letiště/nádraží na kolej nebo byt. Co následuje potom? To už záleží na tobě, můžeš svého studenta provést po Praze, ukázat mu svá oblíbená místa nebo zajít na pivo.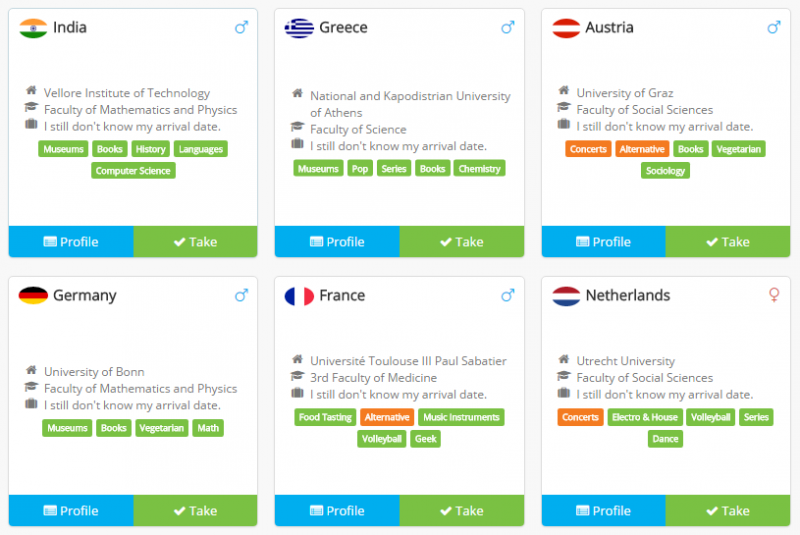 Pro všechny buddies máme facebookovou skupinu, nezapomeň se přidat! :)
Na obsluhu Buddy Programu používáme webovou aplikaci Broaddy. Registrací na této stránce si založíš profil, na který se můžeš kdykoli přihlásit a vybrat si svého zahraničního studenta. Pro zachování soukromí se ti kontaktní informace daného studenta zobrazí až když se u něj zapíšeš jako jeho buddy.
Podrobný návod na práci s Broaddy najdeš v našem
Buddy Guidu
. S jakoukoli otázkou, připomínkou nebo nápadem se na nás neváhej obrátit na
buddy@e
sncuprague.cz
.